Cash Passport Prepaid MasterCard®
Safe, easy and rechargeable
We know how important it is to keep your money safe and organised during your holiday. We also know how important it is to know that your travel money is always available, no matter where in the world you are.
For those destinations where you'd rather not carry too much cash, the GWK Travelex Cash Passport is an excellent solution. Offering the convenience of a debit card and credit card combined, this is travel money made simple.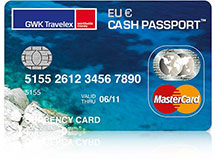 The GWK Travelex prepaid Mastercard is available in three different currencies: euros, US dollars and British pounds. Our cards clearly display their currency so you know which is which.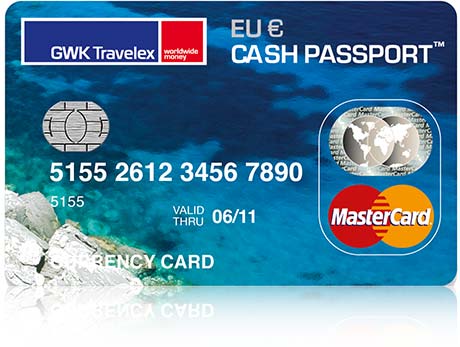 Keep your travel money safe on a Prepaid MasterCard
Wherever you're jetting of to, with a Prepaid MasterCard you can enjoy worry-free travel. The card combines the security and peace of mind of traditional travel cheques with the freedom and convenience of a credit card. You can charge your card with your travel budget in advance and rest assured that your money is safe and secure. Your card will also function as a normal credit card and can be used to pay in shops, restaurants and anywhere with the MasterCard logo.
The Prepaid MasterCard® is available in American dollars, British pounds and euros.
Benefits of the Prepaid MasterCard
Secured by chip and PIN

Prepaid MasterCards are not linked to your bank account

Fully rechargeable

Global card customer service available 24 hours a day, 7 days a week

Accepted at over 34 million companies worldwide and all ATMs with the MasterCard symbol
A world of possibility with the Prepaid MasterCard®
With GWK Travelex you can easily buy and exchange foreign currency at our many stores across the Netherlands. You can also reserve foreign currency and prepaid Cash Passports online and collect from a store of your choice. If you'd rather not travel with cash then a prepaid debit card is an easy and safe solution.
GWK Travelex will preload your Cash Passport with your desired amount of foreign currency. The card looks like a regular Mastercard debit card and functions in the same way. With your prepaid debit card you can make worldwide purchases without needing to worry about cash. But if you do need cash at any point during your trip then you can easily take out local currency at an ATM. Cash Passport payments are accepted by more than 34 million businesses around the world, as well as all ATMs displaying the MasterCard symbol.
Advantages over normal credit cards
With a GWK Travelex Cash Passport you can pay in the local currency, which means you won't pay a transaction fee.
The Cash Passport is extremely safe: the prepaid debit card is not linked to your bank account, which means you'll have far less to worry about should you accidentally lose it.
In the case that you do lose your Cash Passport you can quickly block it at any time, 24 hours a day, 7 days a week. The cards are also protected with chip and PIN technology, just like a normal credit or debit card.
If you lose your Cash Passport, call GWK Travelex and we will cancel it immediately. Netherlands 0800 022 8308 Other countries +44 20 3284 8396 Another advantage of Cash Passport prepaid debit cards is that you can add credit at any GWK Travelex branch or via a wire transfer directly from your bank.
Cash Passports are issued by Wirecard Card Solutions Ltd ("WDCS"), based on a license from MasterCard International.
MasterCard and the MasterCard trademark are registered trademarks of MasterCard International Incorporated.
Our terms and conditions apply to Cash Passports. Visit one of our offices for more information.